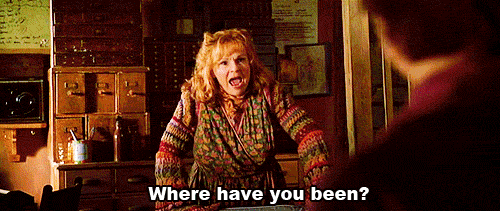 Sorry, Mrs. Weasley. Short answer: here. Long answer: here, but just reading a lot and taking a break and re-energizing myself. Watching Outlander over and over again. Becoming obsessed with makeup tutorials on YouTube and spending too much money as a result. Letting my reviews pile up. Feeling a little disconnected. It's been pretty freeing, honestly. I have NOT been getting into trouble with your sons and Harry Potter (GOD, I WISH) (WAHHHH, FRED!! *SOBS FOREVER*).
Anywho, you know how sometimes things are incredibly stressful and you feel like you're dealing with everything pretty well until you look backwards and are like, "Oh, no, honey. No."? That's been me lately. Well, kind of since the beginning of this year. Work has been stressful–like, giving me hives stressful–and home has been a little less so, but still not the calmest. I come home from work and I'm burned out, and all I feel like doing is reading or watching the aforementioned YouTube videos and not having to do anything even mildly obligatory. I'd say that I barely have the motivation to do laundry, but that's not really the result of anything new. I'm just, like, mentally exhausted. My chill is evaporating.
I know that I've mentioned before somewhere that when I'm feeling the press of time or like a stress ball, I'll chose reading over anything else. Including blogging. To me, reading is entertainment, and when I need to turn off my brain for whatever reason, I'll grab a book. Reading at my own unhurried pace is really the only thing that relaxes me lately, and blogging has felt like more work.
Since I haven't posted anything in a while (almost a whole month OMG), I figured I'd just give a brief rundown of what I have been reading recently so that we can still have no chill over books together. I've mostly been reading lots of adult contemporary or historical romance (I'm caught up on Penny Reid's Winston Brothers series and just finished some Tessa Dare books–all wonderful), because those books in particular are like crack and are perfect for my mood, but I've gotten a few YA books under my belt, waiting patiently for me to get a burst of motivation to write a review. I loved THE RAVEN KING and A COURT OF MIST AND FURY. Loved a lot. Katie McGarry's WALK THE EDGE was really good; I'm loving this biker series in general so far. I also cannot wait for the third book in The Fixer series because THE LONG GAME was fun and intriguing and had SOME TWIST (I kind of figured it out, but still). I'm also completely invested in my Outlander reread. Like, ALL IN. I'm rereading the series via audio before I read IN MY OWN HEART'S BLOOD, and it's seriously the best kind of meditative device. Davina Porter is magic. I'm on THE FIERY CROSS right now, and everytime I start a new book, my excitement for the whole series is renewed. Plus, this is the first time I've reread the books after DRAGONFLY IN AMBER, and it's basically a book-lover's dream to be reminded of things and characters in a favorite series long forgotten. JAMMF always.
I'm 23 books behind on my Goodreads challenge, and I'm not really sweating it.
As always, though, I've got a BUNCH of books I want to read, but I'm really looking forward to THE WINNER'S KISS, THE ROSE AND THE DAGGER, THE UNEXPECTED EVERYTHING, and, like, so many more. Have you guys read any of these? Which one should I jump into first? TELL ME!
Basically this whole post is just because I missed blogging for the first time in awhile today, and I wanted to talk about what I've been reading in a really (really) low-key way. What have you guys been up to? How's life? Whatcha readin these days?
Let's catch up!