I received this book for free from the publisher via NetGalley in exchange for an honest review. This does not affect my opinion of the book or the content of my review.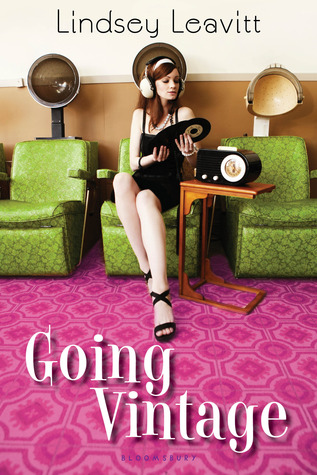 Going Vintage

by Lindsey Leavitt
Published by Bloomsbury on March 26, 2013
Genres: Contemporary YA, Young Adult
Pages: 320
Format: eARC
Source: the publisher via NetGalley
Amazon • Barnes & Noble • Goodreads


When Mallory's boyfriend, Jeremy, cheats on her with an online girlfriend, Mallory decides the best way to de-Jeremy her life is to de-modernize things too. Inspired by a list of goals her grandmother made in1962, Mallory swears off technology and returns to a simpler time (when boyfriends couldn't cheat with computer avatars).

The List:
1. Run for pep club secretary
2. Host a fancy dinner party/soiree
3. Sew a dress for Homecoming
4. Find a steady
5. Do something dangerous
But simple proves to be crazy-complicated, and the details of the past begin to change Mallory's present. Add in a too-busy grandmother, a sassy sister, and the cute pep-club president–who just happens to be her ex's cousin–and soon Mallory begins to wonder if going vintage is going too far.
Friends, Lindsey Leavitt's book, GOING VINTAGE, is super cute. The story of a young girl–that would be Mallory–whose long-time boyfriend cheats on her with an internet girlfriend so, in protest of that most villainous mistress, technology, TURNS HER BACK ON IT entirely. I love this idea; it's pretty provocative in this age of social media and ever-shrinking devices making it easier for people to be plugged in ALL THE TIME. But Mallory's decision to go for real retro isn't the only thing I really enjoyed about GOING VINTAGE. Lindsey Leavitt's sophomore effort has made a pretty huge fan out of me, and I was a super-fan of SEAN GRISWOLD'S HEAD already! Because like that debut, GOING VINTAGE isn't just cute romance–it's got heart and depth and feelings, too.
So GOING VINTAGE begins with our girl, Mallory, discovering that her long-time boyfriend, Jeremy, has been exchanging lovey emails and living a fake life as a married couple with another girl in an online game. She decides pretty quickly (I thought) that because the evil internet is the source of her now completely fractured relationship, she's going to turn her back on it, her phone, and any other modern convenience that she can think of, thanks to a list she finds in her grandmother's attic. She enlists her AWESOME younger sister, Ginnie, to help make sure she stays on the wagon. Mallory's commitment to "going vintage" leads her to start a club at school and THIS leads her to Oliver, Jeremy's non-tool cousin who's on the Student Council and is a total hipster.
Friends, the romance between Mallory and Oliver was pretty great. It wasn't insta-love by any means, and so I was really satisfied with it. There's some weirdness that comes from Oliver being Jeremy's cousin, but since Jeremy is THE WORST–seriously, even though HE was the one who cheated, he calls Mallory a slut online–he and Oliver don't get along. So I wasn't so bothered by the cousin-swapping, especially because Mallory and Oliver come together slowly and organically, and their relationship is based on a great understanding and common ground. WORD.
I really appreciated how Lindsey Leavitt didn't give us that weird triangle in GOING VINTAGE, either. This is mostly because Jeremy has no redeeming qualities, really. He's basically a tool for the entire book, and when you get this feeling that MAYBE he might be turning over a new leaf, he goes and does something awful, like propositioning Mallory. He's a real jerk.
Certainly, Jeremy would not have supported Mallory's journey that begins with the retro list and turns into something more important for her growth as an independent girl who isn't defined by her relationships. I liked the idea behind GOING VINTAGE, friends. As someone who could probably live without her phone but not her computer, I'm intrigued. Also, I find the list TOTALLY CHARMING–pep squad? Dinner party? FIND A STEADY?! I mean, it's like Mad Men. But Lindsey Leavitt takes the list and Mallory's (temporary) quest to disconnect from electronics to not only have her discover the awesomeness of connecting with people on a whole different level, but to give GOING VINTAGE some emotional heft.
This heft comes mostly from Mallory's family. First of all, as someone whose sister is her bff, I was a HUGE fan of the sister relationship between Mallory and Ginnie in GOING VINTAGE. It was perfect. They share secrets, encourage each other, call each other out when they're being selfish or stupid, and make each other laugh. LOVED THEM. The other family drama comes from Mallory's grandma, with whom she's pretty close. It comes about over the course of the book that Mallory's grandma is keeping some secrets of her own and while I was able to puzzle out what that secret was, it didn't keep me from enjoying the relationship between the two of them. More grandma's, please!
GOING VINTAGE by Lindsey Leavitt is as solid a sophomore book as you're likely to come across. SEAN GRISWOLD'S HEAD was based on something a little more serious than GOING VINTAGE, but this book was no less enjoyable or heart-warming. Mallory is a great character, Lindsey Leavitt's writing is funny and endearing, and the whole concept is pretty rad to me. Lindsey Leavitt is a must-read author for me, and I think GOING VINTAGE will make her a must-read author for you guys, too.
Check out these other reviews of Going Vintage by Lindsey Leavitt!
Magan @ Rather Be Reading: "I want to put copies of this book in the hands of some of my friends who place entirely too much emphasis on their online lives and forget to go out and live and experience and do things."
Brittany @ The Book Addict's Guide: "Super cute. Loved it all. Oliver had me at hello."
Lori @ Pure Imagination: "As a whole, I enjoyed it. I was never bored, but it just wasn't the book I wanted it to be."
Related Posts