I received this book for free from the publisher via NetGalley in exchange for an honest review. This does not affect my opinion of the book or the content of my review.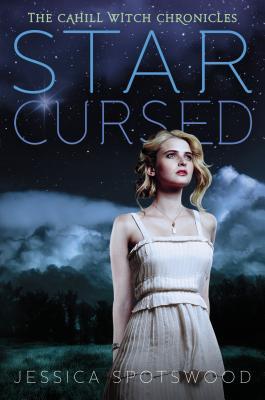 Star Cursed

by Jessica Spotswood
Series: The Cahill Witch Chronicles #2
Published by Putnam Juvenile on June 18, 2013
Genres: Alternate History, Historical Fiction, Magic, Paranormal YA, Witches, Young Adult
Pages: 384
Format: eARC
Also in this series: Born Wicked, Sister's Fate
Also by this author: Born Wicked, Sister's Fate
Source: the publisher via NetGalley
Amazon • Barnes & Noble • Goodreads


With the Brotherhood persecuting witches like never before, a divided Sisterhood desperately needs Cate to come into her Prophesied powers. And after Cate's friend Sachi is arrested for using magic, a war-thirsty Sister offers to help her find answers—if Cate is willing to endanger everyone she loves.

Cate doesn't want to be a weapon, and she doesn't want to involve her friends and Finn in the Sisterhood's schemes. But when Maura and Tess join the Sisterhood, Maura makes it clear that she'll do whatever it takes to lead the witches to victory. Even if it means sacrifices. Even if it means overthrowing Cate. Even if it means all-out war.

In the highly anticipated sequel to Born Wicked, the Cahill Witch Chronicles continue Cate, Maura and Tess's quest to find love, protect family, and explore their magic against all odds in an alternate history of New England.
So, STAR CURSED. Friends, I have had BORN WICKED on the brain since I read Jessica Spotswood's debut last year. Witches in a historically-alternate New England? UMM, YES. The cliffhanger of book one was pretty legit, so I was anticipating where things would go in STAR CURSED greatly. Jessica Spotswood totally delivered. The relationship between Cate Cahill and Finn Belastra is tested, the political scheming between the Sisterhood and the Brotherhood is reaching a boiling point, and the sibling rivalry between Cate and her younger sister, Maura, is getting worse by the second, all of which makes STAR CURSED a VERY enjoyable book two indeed.
Quick recap (and, hey, spoilers for BORN WICKED ahoy!): at the end of book one, Cate has agreed to join the Sisterhood to protect her sisters, even though her love, Finn Belastra, has joined the BROTHERHOOD so that they could get married. It's a pretty big shock. STAR CURSED begins with Cate studying and living with the Sisterhood in New London, beefing up her magic, and worrying over the prophecy that was issued in BORN WICKED, stating that one of the three sisters will be another prophetess, and one of them will kill another, and all kinds of other OMINOUS stuff. Her sisters, Maura and Tess, eventually come to New London to live and study with the Sisterhood as well. But all is NOT well with the ladies of the Sisterhood. There's infighting and backstabbing going on. Plus! The members of the Brotherhood are all in town for some big meeting, which means Finn is around, even though Cate isn't sure at first where they stand with one another. I don't want to get into too many details about how all the shizz hits the fan, but trust me: IT DOES AND IT'S AWESOME.
One of the things that really stood out to me in book one was the antagonistic relationship between the Brotherhood and their female arm: the Sisterhood must be wary not to draw attention to the fact that THEY ARE WITCHES, the very thing the Brotherhood is trying to eradicate, and so they must pretend to agree with the Brotherhood's scare tactics, which are horrible. There's a lot of facades and games and covers and some spying going on in STAR CURSED. But at the center of it all is always the Brotherhood's misogyny and the Sisterhood's growing refusal to take it anymore. The fear-mongering, lady-hating Brotherhood was infuriating in BORN WICKED, and things do not improve their attitudes here.
But that doesn't mean all is well in witch-land. In fact, the Sisterhood is kind of threatening to fall apart from within. There are factions within that want to wait things out and others that want to stir the pot. Both sides want to claim Cate, whom they all believe to be the sister destined to become the prophetess. Playing both sides is a tricky business, and Cate struggles with her own personal beliefs and what other people tell her is best. The Sisterhood is so morally ambiguous, friends, and I love it. I love their feminism, but their methods! There's one sister in particular, Sister Inez, who just brings the bad vibes. The way Cate navigates these shark-infested waters is so admirable and awesome.
Not helping matters at all for Cate—who is struggling with fitting in with the other novitiates—is the arrival of her sister, Maura. Listen: Maura was so frustrating in BORN WICKED, but I lost count of the number of times I wanted to straight up strangle her in this book. I'm not sure if we're supposed to feel bad for her, but mostly I just thought she was selfish, ruthless, sneaky, bitter, and angry, even as she accused Cate of being those things instead (she isn't, in my opinion). Any pity I might have felt for her at the end of book one was washed away by her actions in STAR CURSED within about 5 pages of her arrival in New London. And THEN! THE THING SHE DOES. To me? Unforgivable.  Horrible. I was worried about how these two sisters would come back from their differences BEFORE Maura does THE THING, but now? Whew. Not looking good.
Of course, Cate doesn't only have her relationship with Maura making things in New London complicated. Finn, now a part of the Brotherhood, is visiting during their annual meeting/witch burning/jubilee thing. Things in STAR CURSED are not easy for them, but you won't lose faith in them either. I don't want to spoil it for you guys, but just trust that their relationship runs the gamut of emotions and then…CLIFFHANGER OF RIDICULOUS PROPORTIONS. Jessica Spotswood freaking LOVES those.
I'm totally invested in the world Jessica Spotswood has created in The Cahill Witch Chronicles, friends. Hearing characters talk about how their ancestors were Salem witches just makes the history nerd in me DIE. I loved how the politics between the Sisterhood and the Brotherhood are becoming not just tricky, but violent–STAR CURSED is, among other things, the story of how the Brotherhood takes its witch-hunting and female suppression to new lows. But above all of that, this is still a story about sisters and young women growing into their potential and fate. Cate remains easy to like and root for, and her backbone and smarts grow more and more. If you liked BORN WICKED, STAR CURSED is going to satisfy to Cahill craving for sure.
Check out some other reviews of Star Cursed by Jessica Spotswood!
April @ Good Books and Good Wine: "Drop your schedule and read Star Cursed."
Rachel @ Rachel's Reads: "It's a fascinating alternative history, oozing with suspense and tension."
Heidi @ YA Bibliophile: "When I think of it my main thought is, "NO! Just… Gah! I can't even….. $%£*&@#%$&! Jess! That ending… are you trying to kill me!!""
Related Posts