I received this book for free from in exchange for an honest review. This does not affect my opinion of the book or the content of my review.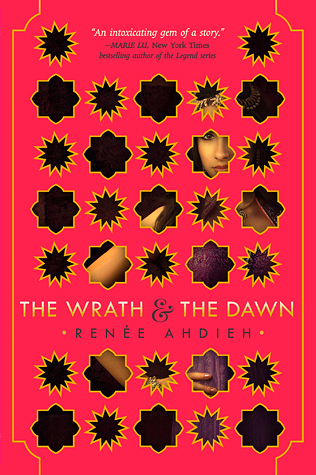 The Wrath and the Dawn

by Renee Ahdieh
Series: The Wrath and the Dawn #1
Published by Putnam Juvenile on May 12, 2015
Genres: Fantasy YA, Magic, Young Adult
Pages: 388
Format: eARC
Amazon • Barnes & Noble • Goodreads


A sumptuous and epically told love story inspired by A Thousand and One Nights

Every dawn brings horror to a different family in a land ruled by a killer. Khalid, the eighteen-year-old Caliph of Khorasan, takes a new bride each night only to have her executed at sunrise. So it is a suspicious surprise when sixteen-year-old Shahrzad volunteers to marry Khalid. But she does so with a clever plan to stay alive and exact revenge on the Caliph for the murder of her best friend and countless other girls. Shazi's wit and will, indeed, get her through to the dawn that no others have seen, but with a catch . . . she's falling in love with the very boy who killed her dearest friend.

She discovers that the murderous boy-king is not all that he seems and neither are the deaths of so many girls. Shazi is determined to uncover the reason for the murders and to break the cycle once and for all.
God, you guys, I LOVED THE WRATH AND THE DAWN by Renee Ahdieh. I know I'm super behind the times with my review, but I've been stewing over this story and these characters since I read it with my girls Brittany and Alyssa for our On the Same Page feature. The story of Shazi and Khalid and their world and their relationship was enthralling and emotional and I couldn't get enough. I cannot wait for book 2.
THE WRATH AND THE DAWN is a spin on A THOUSAND AND ONE NIGHTS, where a young woman is taken to the Sultan of her lands after many women before her are all killed the morning after they arrive. She saves herself by beginning to tell the Sultan a tale, but uses the end of the tale as a negotiating tool to save her life. In THE WRATH AND THE DAWN, Shazi agrees to go the Caliph's palace as a bride so she can exact revenge on him for murdering her best friend. Once she arrives, things progress as she assumes they would: Khalid, the Caliph, marries her. However, motivated by her revenge and geared by her own cunning, Shazi begins to tell Khalid a story. She withholds the ending on the promise of not being killed in the morning. He agrees. Again and again, until their relationship becomes something Shazi did not expect, and her own life in the palace as Calipha becomes familiar and she makes friends. Of course, there's more to Khalid's wives than Shazi knows, and when her old flame comes to save her from what he believes to be a horrible fate, well, things don't go according to plan.
I haven't often encountered a book with a setting like THE WRATH AND THE DAWN and I LOVED IT. I love the desert and the palaces and the soukhs and the food–it was all so vibrant. Renee Ahdieh did an amazing job with the setting and the atmosphere. I thought the world-building was excellent; I could picture it clearly in my mind's eye while I was reading.
But let's just cut to the chase, though: Shazi and Khalid. They're the real focus of THE WRATH AND THE DAWN, and I found them to be LEGIT. Their chemistry is off the charts, mostly because Shazi's springs from very intense hatred, and Khalid's comes despite some pretty strong feelings of guilt. There's so much going on  under the surface of their relationship that makes their attraction really palpable. It was swoony as hell, guys. The obstacles to their being together are not small: Shazi wants to end the systematic murder of Khalid's brides, and Khalid struggles every day with what he's done and why. It's all very emo. I was a very BIG fan of them, separate and together.
The secondary characters were also really great in THE WRATH AND THE DAWN. Shazi's hometown boyfriend (this sounds really modern, but that's essentially what he is), Tariq, was stubborn and perhaps a bit misguided, but I couldn't fault him for all of his actions. I'm also a big fan of Khalid's captain of the guard, Jalal, and Shazi's maid, Despina, are also fantastic and I love them. These characters flesh the story out and definitely set things up for book 2.
THE WRATH AND THE DAWN isn't just about the relationships, though, and this is probably both the most interesting and worrying aspect of the story to me. See, Shazi's father appears throughout this book taking part in some shady deeds that seem to involve magic. Shazi herself has some weird experiences that hint at THINGS, and the reason for the killing of Khalid's wives is itself mysterious. This magical aspect is only really touched upon in this book, and so Renee Ahdieh has some 'splainin to do in book 2. I'm a touch concerned because it kind of feels like a lot, but I'm so completely invested that my concern is pretty diminished. It is there, though.
Friends, THE WRATH AND THE DAWN had so many beyond pleasing elements. Romance, a vibrant culture, hints of magic, mystery, danger–all the things. The world Renee Ahdieh built is stellar, and her characters are full of complicated emotions. Book 2 cannot come soon enough. For real. My body is ready.
Related Posts