I received this book for free from the publisher via Edelweiss in exchange for an honest review. This does not affect my opinion of the book or the content of my review.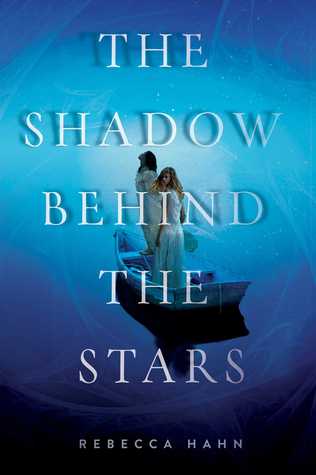 The Shadow Behind the Stars

by Rebecca Hahn
Published by Atheneum on September 1, 2015
Genres: Fantasy YA, Mythology, Young Adult
Pages: 256
Format: eARC
Source: the publisher via Edelweiss
Amazon • Barnes & Noble • Goodreads


A girl's dark destiny could cause the unraveling of the world in this spellbinding novel from the author of A Creature of Moonlight, whichKirkus Reviews called "cumulatively stunning" in a starred review.

Heed this warning, mortal: stay far away from the three sister Fates. For if they come to love you, they might bring about the end of the world…

Chloe is the youngest. Hers are the fingers that choose the wool, that shape the thread, that begin it. The sun smiles upon her. Men love her without knowing who she is. She has lived forever and will live forever more. She and her sisters have been on their isolated Greek island for centuries, longer than any mortal can remember. They spin, measure, and slice the countless golden threads of human life. They are the three Fates, and they have stayed separate for good reason: it is dangerous for them to become involved with the humans whose lives they shape.

So when a beautiful girl named Aglaia shows up on their doorstep, Chloe tries to make sure her sisters don't become attached. But in seeking to protect them, Chloe discovers the dark power of Aglaia's destiny. As her path unwinds, the three Fates find themselves pulled inextricably along—toward mortal pain, and mortal love, and a fate that could unravel the world.
Friends, I'm excited to be reviewing THE SHADOW BEHIND THE STARS by Rebecca Hahn today! It's a gorgeously written, thoughtful book. But I'll get to that in a second. Before I jump into my review, I was able to ask Rebecca some questions about THE SHADOW BEHIND THE STARS, and she was awesome enough to answer! I wanted to share those first. So, here we go! Thanks Rebecca! (Don't worry; there's no spoilers.)
If you had to choose, which of the three fates do you think wields the most power?
That's an interesting question. I honestly don't think they could do much of anything without one another. And they make their big decisions as a group. I'm sorry, I don't think I can choose one! But I would be interested in the arguments anybody else might make about this.
How did you decide to tell the story from Chloe's point of view instead of Aglaia's?
Chloe came first. Her voice was in my head, and her image was in my mind. When I started writing the story, she was talking. She seemed to embody what the story was about—it was important that Aglaia wasn't the main character because this story is more about the Fates' reactions to her life than about her.
What's your favorite myth? Why?
I like all the myths! One of my favorites is the story of how Hermes tricks his older brother Apollo into giving him all his cattle—and in the process, names himself as one of the twelve major Olympian gods. Hermes is a god who is easy to love. He's a trickster, he helps travelers, and he wears golden winged boots. What's not to like?
What was your favorite go-to snack while you were writing?
I love chocolate, the darker the better. 🙂
Was there a particularly difficult scene to write? What helped you work through it?
I rewrote the end of the book several times. I was trying to hit just the right note. It was frustrating, but I felt that each time it was getting closer to what I wanted—that kept me working on it.
Where did you get your inspiration to use Endymion–from the myth or the poem?
I got the inspiration from a list of Greek baby names! I liked that Endymion was associated with handsomeness and with youth. It fit his character (at least on the surface).
Thanks again, Rebecca! And thanks also to Audrey at Simon & Schuster for helping put this together! I can't choose which fate I think has the best power, either.
---
Friends, I hope Rebecca stopping by to answer some questions about THE SHADOW BEHIND THE STARS whets your appetite for this beautiful, quietly powerful story about the three fates and their interaction with a young mortal girl named Aglaia.
The first thing that you might notice upon reading THE SHADOW BEHIND THE STARS is the language. At least, it was for me. It was so lush and pretty, and it really set the perfect tone for this story. It all felt very old and timeless, which is one of my favorite things. It completely captivated me, and kept me reaching for this book when I thought the action was slower and more deliberate (which was most of the book until the end).
What also really gave THE SHADOW BEHIND THE STARS emotional depth was the relationship between Chloe, Serena, and Xinot. As fates, they represent the different periods of one's life: Chloe, who starts the thread, is the youngest and a teenager; Serena, who measures the thread, is middle-aged; and Xinot, the oldest, cuts the thread. I liked that not only did the fates each have their own tasks, but they also are aged more appropriately. It made their interactions that much more interesting because even though they call each other "sister," they aren't necessarily, and it gives you a better understanding of how and why they react they way they do to Aglaia, and how they complement each other.
Speaking of Aglaia, this girl…I'm a little torn about her. Overall, I fist-pump her and her single-mindedness because it's so strong and fearless. But there were some times when I cringed at her manipulation of the sisters, especially Chloe to whom she has a stronger bond. As the only mortal the fates have encountered in some years, they each become attached to Aglaia in their own ways, and it's these attachments that create the central drama. For that, I loved Aglaia and her story of revenge on the warrior Endymion. It is through Aglaia that the fates come to understand humanity, mortality, and loss. It's really powerful stuff. Not like smash-you-in-the-face powerful, but more like slow-throb-in-your-gut powerful.
THE SHADOW BEHIND THE STARS isn't a book that's going to knock you off your feet with action and a fast pace. Rebecca Hahn's book is much slower than that. For me, it was made to be devoured in smaller bites that I could chew on for a while. It was satisfying and thought-provoking.
Related Posts