I received this book for free from the publisher in exchange for an honest review. This does not affect my opinion of the book or the content of my review.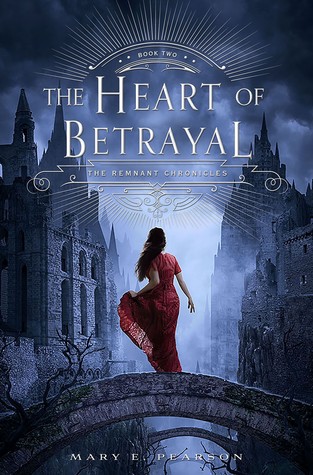 The Heart of Betrayal

by Mary E. Pearson
Series: The Remnant Chronicles #2
Published by Henry Holt and Co. on July 7, 2015
Genres: Fantasy YA, Young Adult
Pages: 470
Format: ARC
Also in this series: The Beauty of Darkness
Also by this author: The Beauty of Darkness
Source: the publisher
Amazon • Barnes & Noble • Goodreads


Held captive in the barbarian kingdom of Venda, Lia and Rafe have little chance of escape. Desperate to save Lia's life, her erstwhile assassin, Kaden, has told the Vendan Komizar that she has the gift, and the Komizar's interest in Lia is greater than anyone could have foreseen.

Meanwhile, nothing is straightforward: There's Rafe, who lied to Lia but has sacrificed his freedom to protect her; Kaden, who meant to assassinate her but has now saved her life; and the Vendans, whom Lia always believed to be savages. Now that she lives among them, however, she realizes that may be far from the truth. Wrestling with her upbringing, her gift, and her sense of self, Lia must make powerful choices that will affect her country… and her own destiny.
Mary E. Pearson's The Remnant Chronicles series keeps getting better. I really enjoyed book 1, THE KISS OF DECEPTION, and the twists and the worldbuilding. Book 2, THE HEART OF BETRAYAL is a different kind of book with different secrets, different places, and new characters. It's as engrossing as the first book, and it again leaves me with so much curiosity about where things are going to go, what the twists will mean, and how these characters will adapt and move forward.
THE HEART OF BETRAYAL takes place almost exclusively in Venda, the kingdom home of Kaden the assassin and his leader, the Komizar. Lia is, for all intents and purposes, a prisoner there, and Rafe's position there as an "ambassador" from the prince of Dalbreck is even more tenuous. The Komizar is magnetic and dangerous, and the country of Venda is brutal. Lia's relationships with Kaden and Rafe are fraught and conflicting to a point, but it's her interactions with the Komizar that require the most careful handling. As Lia comes to know the people of Venda, she begins to question what she's always been told about them even as she and Rafe set plans in motion to get themselves out of Venda and to safety.
So. Venda. THE HEART OF BETRAYAL is a very stationary book, but not in a bad way. Getting to see Venda and learn about its people and culture added so much to understanding not just this world, but also Kaden and the way his childhood in this place among these people shaped him. But as much as I enjoyed seeing the cold harshness of Venda to get a better grip on Kaden, it was really the drama that being there created for Kaden, Lia, and Rafe that made THE HEART OF BETRAYAL so hard to put down. There are so many secrets: Rafe is lying about his identity, Lia is lying about her gift, Kaden is trying to juggle his loyalty to the Komizar while also struggling with his growing feelings for Lia. There's no opportunity for any of the characters to really let down their guard.
There are a couple of big things that really I thought had the most impact on THE HEART OF BETRAYAL. The first is the emergence of Lia's gift. What started in book 1 as just a show becomes reality, but of course the presence of an actual gift must be kept a secret. I loved this development for Lia. It allows her to see and feel things so strongly, and it affects everything, especially Lia herself. At the behest of the Komizar, Lia spends time meeting different communities in Venda and befriending the people, and almost in spite of herself, she finds connections there. Her gift finds connections there. She is welcomed into their tribes and begins forging her own loyalties there. Her gift and her connections give her an outlet to really flex her queenly muscles.
Of course, one of the other things that Lia does with her time is getting to know the Sanctum, the ruling men of Venda, and the Komizar himself, who shows immediate interest in Lia. But the Komizar, though. He's the most impactful character in THE HEART OF BETRAYAL. Kaden has a strongly rooted past with him that creates tons of conflict, Lia has an unpredictable relationship with him, and Rafe lives or dies based on his whims. The Komizar is a really powerful man who doesn't shy away from violence or brutality. He manipulates everything around him. And he's keeping some pretty major secrets from the rest of this world that spell DANGER for everyone. I loved to hate him, guys. He creates essentially all the drama.
Where does the rest of the drama come from? Relationships, friends. There's always been some feelings between Kaden and Lia, as well as the stronger, deeper connection between Lia and Rafe. There's some progress made in one direction and I was pleased with it. I'm one of those people who doesn't always perceive triangles because I always see a stronger connection in one pair over another, and THE HEART OF BETRAYAL was like that for me.
Mary E. Pearson does a great job of keeping the pace moving. We are learning all kinds of things about Venda, its people and its secrets, but there's so much interpersonal drama and danger that even as we're getting to know this totally new place, nothing ever feels like it gets stuck in an explanation rut. Things definitely ramp up as THE HEART OF BETRAYAL nears its end. There were a few gaspy moments, some sad and some not, but it's safe to say that by the end of this book, things have been REALLY turned on their head and people are in some sticky situations.
The Remnant Chronicles is pretty gripping, and I'm completely invested in it. I know I didn't really touch on the things in THE HEART OF BETRAYAL that happen outside of Venda, but they are also V. INTERESTING, even if they are a very, very small part of the plot. I can only imagine how everything is going to tie together in the final installment, which I can barely wait to read.
Related Posts