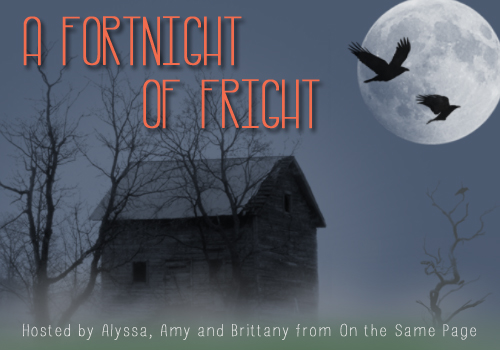 Halloween Movies & TV Shows
We all know that Halloween is the PERFECT time for creepiness on your TVs and movie screens. There are sooooo many to choose from though!! Thankfully, Milka from ReadReadRead and WinterHaven Books has some recommendations for us! Way to go, Milka!
---
Hello! My name is Milka and I blog over at ReadReadRead and WinterHaven Books and I am very happy to be here today to share some of my favorite things to watch during Halloween in a form of a watchlist. So without further ado, here are some recommendations to consider while planning your Halloween film nights.

If you are looking for a classic horror film… you should watch THE SHINING
The shining was directed by Stanley Kubrick (my personal favorite) and it was released in 1980. I am probably not alone in saying that Jack Nicholson is one of the GREATS and from the multiple films I've seen in him, The Shining will probably always remain my favorite. I haven't actually read the original source material for this film, meaning Stephen King's novel, but I do know that the two are very different (King actually was quite unhappy with Kubrick's adaptation of his work). This film proves to me that the kind of psychological horror it features is definitely must scarier (at least for me) than anything slasher films portray.
If you have seen The Shining and want to know/think about it more… you should watch ROOM 237
For those who have watched The Shining, the number 237 will probably mean something. Room 237 is 2012 documentary directed by Rodney Ascher that delves into several different interpretations and conspiracy theories surrounding the film. For example, according to one interpretation the film is about the genocide of Native Americans while another interpretation claims that the film is Kubrick's attempt to remind the audiences about the Holocaust. Even if you are not a huge fan of The Shining itself, this documentary is an extremely interesting example of analysis and interpretation and how you can see pretty much anything you want from a chosen text if you just dig deep enough with a certain mindset.
If you want to introduce yourself to a piece of "Cult" horror…you should watch RE-ANIMATOR
This film is so weird and absurd and funny and wonderful. At first it was one of those films for me I described liking just because it is "so bad that it's good" but after seeing it multiple times, I have started to appreciate the weirdness. There is some "gore" here, but honestly, this is more of a comedy than a horror film. This film also features my favorite cinematic cat of all time.
If you want to watch something with music…you should watch THE ROCKY HORROR PICTURE SHOW
I first became aware of this film during my year of living in United States where one of our neighbors screened it on their yard during Halloween. A couple of years after that, it was used as an inspiration for an episode of Glee and I thought that I should finally give it a chance. And I am happy I did, because after that first initial watch it has become of my favorite musicals of all time. It's wonderfully weird and camp and filled with catchy songs and great dancing numbers.
If you want to watch something foreign…you should watch SUSPIRIA
To be completely honest, I like this film more for its visual outlook than its story, but in general, it is a great film (if it wasn't, I wouldn't recommend it for you!). Suspiria is an Italian horror film from 1977 directed by Dario Argento that follows an American student who goes to a ballet school in Germany who realizes that the school she's in hides a supernatural and sinister secret. The design of this film is AMAZING and the way soundtrack is used to support the narrative works so well.
If you want to watch something with a sci-fi element…you should watch COHERENCE
This is not particularly a horror film, but I think it would make a great addition for a Halloween film night. The way this film is shot and constructed is so well done, and it is definitely one of those films that you have to watch very attentively not to miss anything. Without spoiling too much, let's just say there's a night of astronomical anomaly, eight people and possible alternative universes.

Before I finish with this list I want to share with you a couple of amazing Halloween themed sitcom episodes:
"Halloween" (The Office, season 2) – The Office is my favorite sitcom of all time, so there was no way for me not to include it in this list somehow! Though this episode is pretty significant when it comes to the character relationships (especially between Jim and Pam), it definitely can be watched without having a prior knowledge of the show. Michael's paper-mache second head costume is a legend.
"Halloween" (Modern Family, season 2) – Modern Family has had a couple of good Halloween episodes, but this one is probably my favorite of them. Also, Claire's Halloween House is AMAZING! Props for the people who set that up for the filming!
"Greg Pikitis" (Parks and Recreation, season 2) – One of my favorite things about this episode is the dynamic between Leslie and Andy! The scenes taking place at Ann's Halloween party are also great, especially after Tom takes the position of a party master.
What are you planning to watch this Halloween?