I received this book for free from ALA in exchange for an honest review. This does not affect my opinion of the book or the content of my review.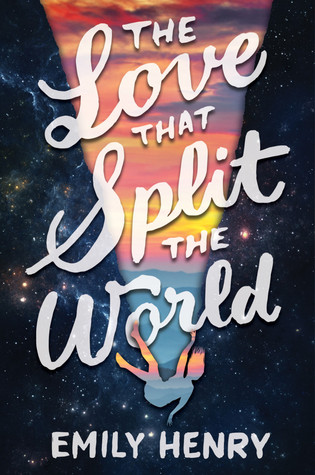 The Love That Split the World

by Emily Henry
Published by Razorbill on January 26, 2016
Genres: Contemporary YA, Young Adult
Pages: 396
Format: ARC
Source: ALA
Amazon • Barnes & Noble • Goodreads


Natalie Cleary must risk her future and leap blindly into a vast unknown for the chance to build a new world with the boy she loves.

Natalie's last summer in her small Kentucky hometown is off to a magical start… until she starts seeing the "wrong things." They're just momentary glimpses at first—her front door is red instead of its usual green, there's a pre-school where the garden store should be. But then her whole town disappears for hours, fading away into rolling hills and grazing buffalo, and Nat knows something isn't right.

That's when she gets a visit from the kind but mysterious apparition she calls "Grandmother," who tells her: "You have three months to save him." The next night, under the stadium lights of the high school football field, she meets a beautiful boy named Beau, and it's as if time just stops and nothing exists. Nothing, except Natalie and Beau.

Emily Henry's stunning debut novel is Friday Night Lights meets The Time Traveler's Wife, and perfectly captures those bittersweet months after high school, when we dream not only of the future, but of all the roads and paths we've left untaken.
I've been DYING for THE LOVE THAT SPLIT THE WORLD by Emily Henry for ages, friends. Anytime a synopsis cites Friday Night Lights, legitimately my favorite TV show of all time, and THE TIME TRAVELER'S WIFE, one of my ugliest cries ever, I'm bound to be intrigued. I have to say: It mostly lived up to the hype. The more I think on it, the more I find memories of the occasional meh moment, but mostly I was captivated by Natalie and Beau and their race to figure things out and be together.
I was fascinated by THE LOVE THAT SPLIT THE WORLD almost from the beginning. The first story-within-the-story from Grandmother–the visitor that only Natalie can see–had me hooked. I really loved the folklore aspects. The nature of THE LOVE THAT SPLIT THE WORLD makes it inherently a lot to follow, and there were some times when I was like, *mind explodes*, but the mind-bending parts are also what made THE LOVE THAT SPLIT THE WORLD unique and interesting.
There's such a sense of urgency in THE LOVE THAT SPLIT THE WORLD that I found REALLY appealing. Natalie has three months to save "him," but no idea who "him" is. When she's with Beau, the life she knows is turned on its head and she can't make heads or tails of it. Is he the "him"? No idea. Is it her dad? Maybe. Is it her tormented best friend/ex-boyfriend? Could be. Grandmother gave her warning and hasn't shown up since. If I've got my "him" figured out correctly, it wasn't who I was thinking it would be, but I also have this impression that maybe it could also be someone else? Sometimes THE LOVE THAT SPLIT THE WORLD screwed with my brain (in a mostly good, but also confusing, way).
I did want to talk about a major aspect of THE LOVE THAT SPLIT THE WORLD but I feel like it might be spoilery, so I really can't. I will say that any confusion I had in this book came from this THING, but that THING also brought a lot of the emotional heft and really gave the whole thing this mild thriller vibe, and it would up being really interesting. Maybe I cried or maybe I had something in my eye. No one knows.
The one thing that I wish felt a little more intense was the romance between Natalie and Beau. Don't get me wrong. Their relationship IS pretty intense and they do have a few butterfly moments. But I also felt like the real focus in THE LOVE THAT SPLIT THE WORLD was Natalie, and rightly so. Because I loved Natalie and Beau, though, I wish I felt a little bit MORE.
Overall, I enjoyed THE LOVE THAT SPLIT THE WORLD a lot. It's a really great debut. Creative, ambitious, emotional–all good things that make me excited to read more from Emily Henry.
Related Posts