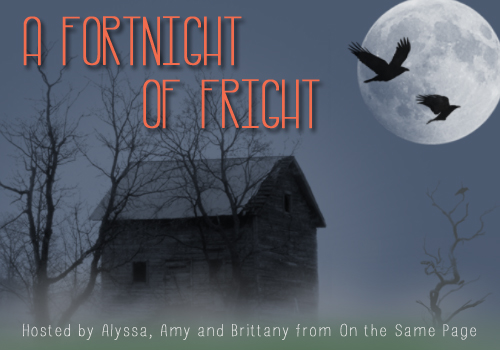 Halloween Glass Jar Crafts
Hello, friends! Happy Fortnight of Fright! I'm so glad to have Ashley from Must Love Books here to share some super fun Halloween crafts!! A Pinterest success, I'd say! Thanks so much for stopping by, Ashley!
---
I am very excited to be a part of Fortnight of Fright this year for a several reasons, one being I love everything Fall. The change in weather, scarves, boots, crunching leaves AND Halloween!Fall also means more crafting and I've had my eye on a few Halloween crafts on Pinterest I've been dying to try. I decided on two glass jar projects that are pretty easy to complete; potion bottles for decoration and mason jar luminaries!
Potion Bottles
As soon as I saw these I knew I had to make my own version. They would look great with any Halloween decor and they are not that hard to make!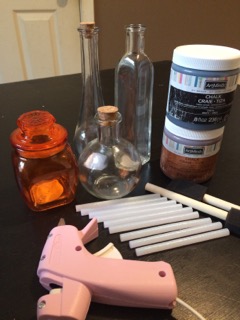 I decided to use chalk paint for this project (ArtMinds brand in Onyx and Metallic Copper). I really like the chalk look and it tends to be better for glass than spray paint. I bought the bottles and the paint from Michaels (I used my 50% off one item and my 25% off total purchase!), everything else I had on hand. I used a regular paint brush also and it actually worked better than the ones shown here. Since I used new jars I didn't have to clean them, but if you use anything you have at home, be sure to clean them well before painting them; maybe run them through the dishwasher first.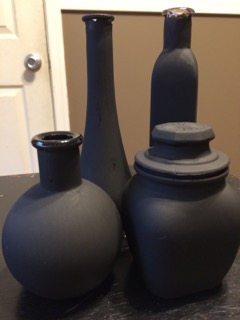 Since this was my first time using chalk paint, I let the jars dry for a couple of hours before applying the next coat.
When I bought the Copper color, I wanted to use it to kind of antique the bottles, I was hoping it would add some depth jar instead of just being black. You can really see what the copper looks like best in this picture.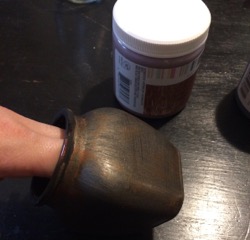 Next I used a glue gun to write on the side of the jars. I used glitter glue sticks I had on hand and used Dragon Scales, Eye of Newt, Bat Blood, and Hemlock for mine.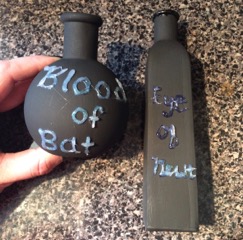 I decided I didn't like how the glitter looked so I went back and painted a layer of black then copper over the glue, then sealed them with a chalk wax.
I love the final result. There are so many variations of colors and design you could do with this project. I'm already thinking of new ideas for next year!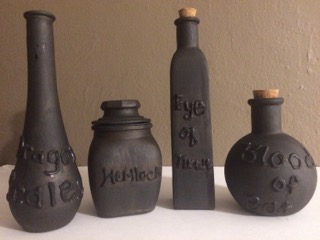 Mason Jar Lumineers
Again, I bought my mason jars from Michaels, but I went to Wal-Mart for my spray paint. Sometimes the cheaper the spray paint, the better it will stick to the glass. Before you spray your jars, make sure you used isopropyl alcohol to clean them really well. I don't know why this works but it does. Something about the alcohol makes the paint stick to the glass better. I used my Cricut to cut out vinyl for the faces but you can use masking tape or even pre-cut stickers from any craft store.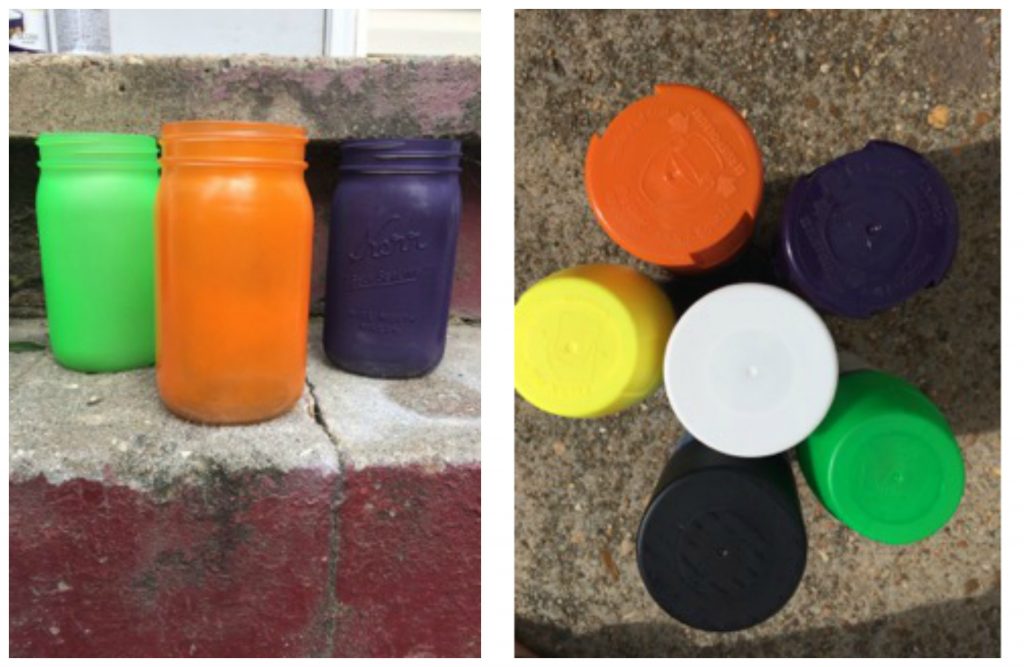 I can not even tell you how much I love these Lumineers. They are so cute and they can be used anywhere; a mantle, porch stairs, bedrooms, table centerpieces, hallways…

I used battery operated, all-white Christmas lights to illuminate the jars. The battery pack fits right inside the jar and you can't see it when the jar is lit up–perfect! I already have plans for all kinds of seasonal mason jar crafts, maybe even some Disney themed ones!
Thank you Amy, Alyssa and Brittany for hosting Fortnight of Fright and allowing me to gush over my Halloween crafts! Happy Halloween everyone!