I received this book for free from in exchange for an honest review. This does not affect my opinion of the book or the content of my review.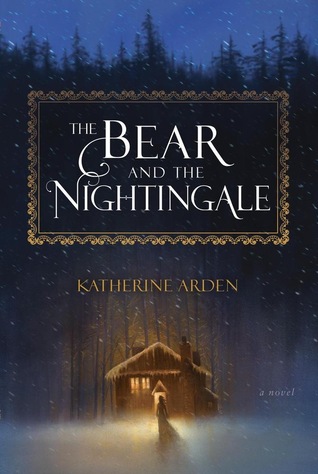 The Bear and the Nightingale

by Katherine Arden
Published by Del Rey on January 10, 2017
Genres: Adult, Folklore, Historical Fiction, Russia
Pages: 336
Format: eARC
Amazon • Barnes & Noble • Goodreads


At the edge of the Russian wilderness, winter lasts most of the year and the snowdrifts grow taller than houses. But Vasilisa doesn't mind—she spends the winter nights huddled around the embers of a fire with her beloved siblings, listening to her nurse's fairy tales. Above all, she loves the chilling story of Frost, the blue-eyed winter demon, who appears in the frigid night to claim unwary souls. Wise Russians fear him, her nurse says, and honor the spirits of house and yard and forest that protect their homes from evil.

After Vasilisa's mother dies, her father goes to Moscow and brings home a new wife. Fiercely devout, city-bred, Vasilisa's new stepmother forbids her family from honoring the household spirits. The family acquiesces, but Vasilisa is frightened, sensing that more hinges upon their rituals than anyone knows.

And indeed, crops begin to fail, evil creatures of the forest creep nearer, and misfortune stalks the village. All the while, Vasilisa's stepmother grows ever harsher in her determination to groom her rebellious stepdaughter for either marriage or confinement in a convent.

As danger circles, Vasilisa must defy even the people she loves and call on dangerous gifts she has long concealed—this, in order to protect her family from a threat that seems to have stepped from her nurse's most frightening tales.
When I first heard about THE BEAR AND THE NIGHTINGALE by Katherine Arden, I did some chair dancing and flailing and kind of spun my tires trying to recommend it to Alyssa and Brittany. Literally everything about it sounded amazing: Russian historical fiction, folklore, magic, a young girl with special gifts, demons. Hi. This is an Amy book. I loved it from the first page.
It's honestly hard for me to describe what, exactly, about THE BEAR AND THE NIGHTINGALE made me love it so much because it's everything. The writing is gorgeous, the plot is magical, the characters are complex and unique, the folk stories and old ways seem both humble and powerful. Everything about it is beautiful. There's nothing wrong with this book. *thinks to make sure this is true* No, there's nothing.
There are a number of wonderful characters in THE BEAR AND THE NIGHTINGALE, but the standout to me is Vasya. (Side note: Thankfully, the Russian patronymic naming conventions, while obviously present, aren't as confusing as, say, ANNA KARENINA.) From the first time we meet her on the day she's born, she's clearly special. As she grows, her curiosity, oddness, courage, and confidence grow with her, although she never seems to suffer from their absence even as a small girl. Her comfort with the woods and her ability to see the old spirits–in the oven, in the trees, in the stables–keeps her in tune with her world in a way no one else is. I just love her to the ends of the Earth, basically.
You know who else loves her to the ends of the Earth, maybe literally? Well, that's a small spoiler, so I won't say. But I AM HERE FOR IT. You will be too. Their relationship is the axis upon which THE BEAR AND THE NIGHTINGALE turns.
I guess I shouldn't say THE relationship because Vasya has several other important ones in her life, namely with her father, Pyotr; her brother, Sasha; and her maid, Dunya. I love the way Pyotr and Vasya interact. He clearly loves his children, but also has that touch of emotional awkwardness that dads have sometimes. Sasha is adorable and very sweet with Vasya. I'm excited that the next books in this world will include more of him. And Dunya is Vasya's mother figure. An old woman who tells tales by the fire and knows the world.
Of course, there are characters that aren't all that positive  as well. No good book could be without them. Some are people from the human realm, others are something else. They all keep Vasya and her family on edge and lend perfectly tense drama.
As amazing as all of the facets of THE BEAR AND THE NIGHTINGALE are, the true gem remains Vasya. This story wouldn't have half of its charm and loveliness without her boldness and personality. If you loved Naomi Novik's UPROOTED, you will absolutely adore THE BEAR AND THE NIGHTINGALE. Katherine Arden's debut, for crying out loud! Beyond excited for more books from her. BEYOND.
Related Posts