I received this book for free from the publisher via NetGalley in exchange for an honest review. This does not affect my opinion of the book or the content of my review.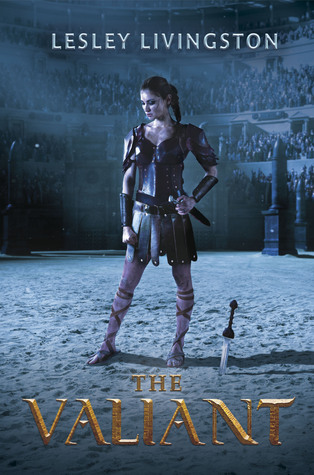 The Valiant

by Lesley Livingston
Published by Razorbill on February 14, 2017
Genres: Ancient Rome, Historical Fiction
Pages: 384
Format: eARC
Source: the publisher via NetGalley
Amazon • Barnes & Noble • Goodreads


The youngest daughter of a proud Celtic king, Fallon has always lived in the shadow of her older sister Sorcha's legendary reputation as a warrior. But when Fallon was a young child, the armies of Julius Caesar invaded the island of Britain and her beloved older sister was killed in battle.

On the eve of her seventeenth birthday, Fallon is excited to follow in her sister's footsteps and earn her rightful place in her father's royal war band. But she never gets the chance. Instead, Fallon is captured by a band of ruthless brigands who sell her to an exclusive training school for female gladiators—and its most influential patron is none other than Julius Caesar himself. In a cruel twist of fate, Fallon's worst enemy, the man who destroyed her family, might be her only hope of survival.

Now, Fallon must overcome vicious rivalries, chilling threats and the dangerous attention of Caesar himself to survive the deadly fights that take place both in and out of the arena—and claim her place in history among the Valiant.
WOOO, this is my first review in a loooong time, friends. Let's hope I'm not too rusty!
I'm so glad that I'm jumping back into the review scene with THE VALIANT by Lesley Livingston. I've been excited to read it ever since I saw the blurb: ancient Rome, a Celtic princess, lady gladiators…what? That all sounds amazing. And it was. I was invested from the beginning in Fallon and her journey, the world she lived in, and the drama surrounding her. HOLLA FOR ANCIENT ROME.
Without a doubt, the best part of THE VALIANT is Fallon. She's a gutsy badass who remains true to herself despite what she's living through–death, danger, betrayal, romance, surprise, and all of it far away from her beloved home. Fallon is motivated by memories of her sister, her home, and her friend Mael to fight her way through training at the Roman gladiatrix academy, Ludus Achillea. She struggles to assert herself while honoring the memories of the people and places that were lost to her. She does make friends–I LOVED Elka–but she also makes enemies, and that set up great drama.
I also love reading about ancient Rome and Caesar's conquests (he makes for a good character in THE VALIANT as well). I'd seen the Roman Empire in a number TV shows and movies before, and I have to say that THE VALIANT reminds me a bit of The Gladiator, and not in a bad way. We get the same glimpses into the fighting circuit, the capture and training of fighters, the bloodlust of Romans, the brutality of the arena, as well as the politics and backstabbing nature of Roman society. There's also some pretty dark things going on in THE VALIANT, and the way things are introduced and then left at the end, I'm not 100% sure that there aren't meant to be more books. Either way, I loved this aspect of the book.
The one weak part, for me, is the romance. Alas! Caius Varro is a good match for Fallon, a little flirty, strong, supportive, stubborn. A soldier's soldier. I like them together a lot. But the main focus of THE VALIANT is Fallon and the other girls at the Ludus Achillea, so the romance suffers simply from lack of story space, and because of THAT, things escalate quicker and with less fleshing out. Bummer.
Since I mentioned the ludus a few times, I really should tell you all in more detail why I love it so. Lesley Livingston says in her Author's Note that evidence of female gladiators is not thick on the ground, but I'm so glad that she took what evidence she could find and turned it into THE VALIANT. All of the girls are tough, strong, and deadly. They each have their own gifts and weaknesses. There's infighting and allegiances. Just all good stuff.
All in all, THE VALIANT was a great, fun read. I feel like it's one of those books that could be (and as far as I can tell, is) a standalone, but it could also become a series. There are a few things that could certainly be explored further, and I'd obviously love to read more about Fallon. Definitely recommend!
Bookout Info!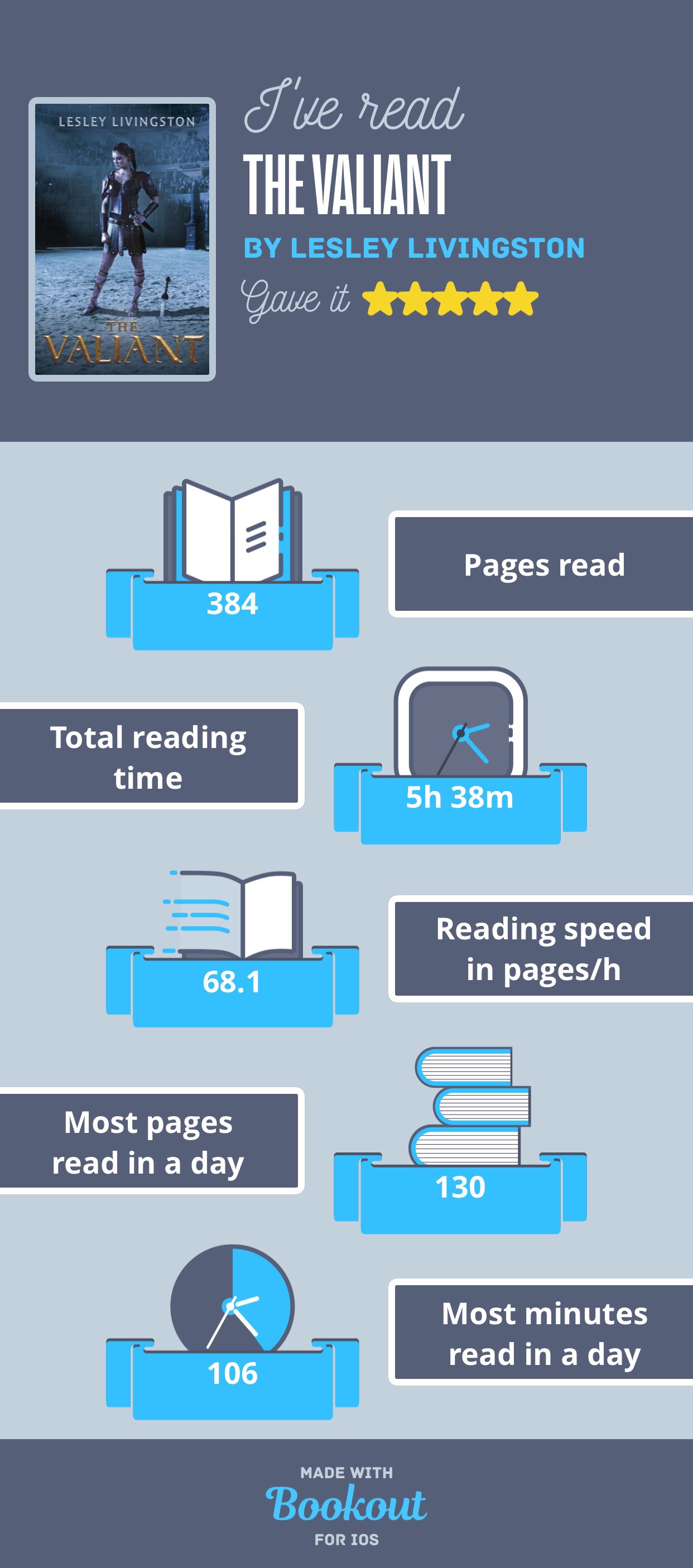 Related Posts