I received this book for free from the publisher via Edelweiss in exchange for an honest review. This does not affect my opinion of the book or the content of my review.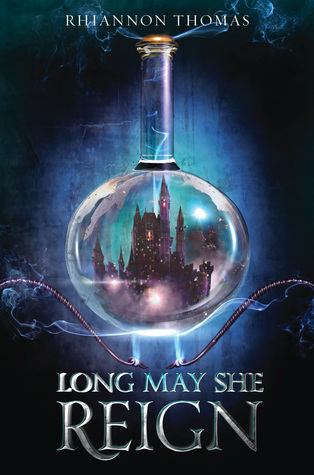 Long May She Reign

by Rhiannon Thomas
Published by Harper Teen on February 21, 2017
Genres: Fantasy YA
Pages: 432
Format: eARC
Source: the publisher via Edelweiss
Amazon • Barnes & Noble • Goodreads


The Girl of Fire and Thorns meets The Queen of the Tearling in this thrilling fantasy standalone about one girl's unexpected rise to power.

Freya was never meant be queen. Twenty third in line to the throne, she never dreamed of a life in the palace, and would much rather research in her laboratory than participate in the intrigues of court. However, when an extravagant banquet turns deadly and the king and those closest to him are poisoned, Freya suddenly finds herself on the throne.

Freya may have escaped the massacre, but she is far from safe. The nobles don't respect her, her councillors want to control her, and with the mystery of who killed the king still unsolved, Freya knows that a single mistake could cost her the kingdom – and her life.

Freya is determined to survive, and that means uncovering the murderers herself. Until then, she can't trust anyone. Not her advisors. Not the king's dashing and enigmatic illegitimate son. Not even her own father, who always wanted the best for her, but also wanted more power for himself.

As Freya's enemies close in and her loyalties are tested, she must decide if she is ready to rule and, if so, how far she is willing to go to keep the crown.
I'm on a big fantasy kick right now, friends. Since the beginning of the year, I've read only one or two non-fantasy books. I picked up LONG MAY SHE REIGN by Rhiannon Thomas because it appealed to my fantasy mood, it's a standalone, I'd heard good things, and the main character has a thing for science. Science! While I think LONG MAY SHE REIGN suffers a teeny bit from being a standalone (I'll explain, don't worry), it was enjoyable, full of mystery, and had a solid main character in Freya.
This book hooked me right away, guys. There's a bonkers twist right at the beginning that sets everything in motion for Freya, and I love this as a plot device. Like, things are normal and then BOOM, SHIT IS NOT NORMAL ANYMORE. It starts things off with lots of excitement and mystery, and gives lots of urgency to the rest of the story. Big fan.
Something I'm also a big fan of? Freya. She goes from being nowhere close to being queen to ACTUALLY being queen, but even as she becomes more comfortable with her new role, she retains some of her lack of polish. She'd rather be conducting science experiments than holding court, and this keeps her down to earth and a little naive to the ways of her world. It doesn't always work out for her, but she stays true. Her idealism is a blessing and a curse, but I admire it.
I also love how Freya's aptitude for the scientific method plays a role in figuring out who murdered the king and the court. LONG MAY SHE REIGN really does come off as a murder mystery in a lot of ways, and I think that made this book just a bit different and fun. Some fantasies are, as I'm sure a lot of you know, based on really serious things: conspiracy, murder, treason, prophecies, the end of the world as the characters know it, etc. LONG MAY SHE REIGN has some of those things to be sure, but the main focus is Freya's acclimating to being queen and her determination to find the culprit behind the banquet massacre.
The one thing that LONG MAY SHE REIGN is lacking is world-building. As a standalone, I think that the things that might've been left out to make more room for the plot are the things that I usually pine for in a fantasy. Not only that, they're the things that I use to separate a good fantasy from a meh one. There is mention of outside lands, but we hear very little, and of course the eARC I read has no map (not sure if the final print version does). There is a ton of stuff about the king that is never explored. Traditions, everyday life, dissenters. I want more of all of it. A huge part of loving fantasies for me is total immersion in the world, and that is missing from LONG MAY SHE REIGN.
Overall, LONG MAY SHE REIGN is fun, fast, and kept my interest. Freya's friends and her romantic interest add great elements, as does her rocky relationship with her father, but I think it was also missing a lot in terms of world-building. Still, the mystery and Freya make LONG MAY SHE REIGN lots of fun to read!
Related Posts