I received this book for free from the publisher in exchange for an honest review. This does not affect my opinion of the book or the content of my review.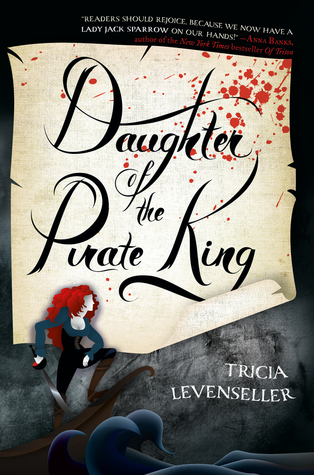 Daughter of the Pirate King

by Tricia Levenseller
Series: Daughter of the Pirate King #1
Published by Feiwel & Friends on February 28, 2017
Genres: Fantasy YA, Pirates, Young Adult
Pages: 320
Format: ARC
Source: the publisher
Amazon • Barnes & Noble • Goodreads


Sent on a mission to retrieve an ancient hidden map—the key to a legendary treasure trove—seventeen-year-old pirate captain Alosa deliberately allows herself to be captured by her enemies, giving her the perfect opportunity to search their ship.

More than a match for the ruthless pirate crew, Alosa has only one thing standing between her and the map: her captor, the unexpectedly clever and unfairly attractive first mate, Riden. But not to worry, for Alosa has a few tricks up her sleeve, and no lone pirate can stop the Daughter of the Pirate King.
I can always get behind a book about pirates, friends. Tricia Levenseller's debut, DAUGHTER OF THE PIRATE KING, is everything I hoped it would be: fun, fast-paced, and badass. It has secrets, mysterious characters, and a great balance between humor and cut-through pirate stuff. While there are some hiccups in terms of pacing and plot reveals, I enjoyed the crap out of this book, and can't wait for the next one.
The best thing about DAUGHTER OF THE PIRATE KING is, without a doubt, Alosa. She is by turns vicious, sarcastic, loyal, compassionate, and ruthless. In short, she's a great pirate. Alosa is on a secret mission for her father, the titular Pirate King, and she relentlessly pursues her goal. She is clever and fearless, and so badass. I hope we get to see her interact with more of her own all-female ship crew in the next book because I know that those girls will be just as amazing as Alosa.
Of course, one of the other great fun things about DAUGHTER OF THE PIRATE KING is the relationship that forms between Alosa and Riden, the first mate of the crew Alosa has allowed to capture her, and a clever pirate in his own right. Since they're basically enemies for most of the book, their interactions are fraught with snarkiness and also mild danger. It's the perfect tension. Riden himself is also fun to read. He's smart, a little emo, he clearly has some backstory. I like him a lot.
The thing that bothers me the most about DAUGHTER OF THE PIRATE KING is, as I mentioned in the beginning of this review, some weird pacing. Or, well, not pacing maybe. More like a little herky-jerky at spots, particularly with a big reveal at the end. It kind of came out of nowhere, but there are some hints, but it still feels…weird. So that's a little bummer, but not major.
Also, I need a map. That's rude. I would like a map very much. DAUGHTER OF THE PIRATE KING is a fantasy, after all, and the world isn't one we know. There's background about the power the Pirate King holds over the rulers on land that intrigued me on it's own, but it also made me curious about this place.
In the end, I thought DAUGHTER OF THE PIRATE KING was a solid debut, and there's enough left open-ended to keep me intrigued about book two, and where it will take Alosa, Riden, and all the pirates.
Related Posts