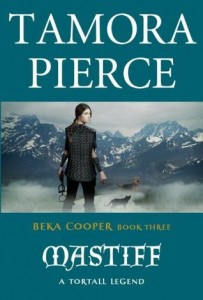 Title: Mastiff
Author: Tamora Pierce
Series: Beka Cooper, #3
Genre: Fantasy YA
Amazon | Goodreads
Publisher: Random House BFYR
Release date: October 25, 2011
Challenge: 2013 TBR Challenge
Source: Own it
Summary: The Legend of Beka Cooper gives Tamora Pierce's fans exactly what they want—a smart and savvy heroine making a name for herself on the mean streets of Tortall's Lower City—while offering plenty of appeal for new readers as well.
Beka and her friends will face their greatest and most important challenge ever when the young heir to the kingdom vanishes. They will be sent out of Corus on a trail that appears and disappears, following a twisting road throughout Tortall. It will be her greatest Hunt—if she can survive the very powerful people who do not want her to succeed in her goal.