Week of February 2, 2013
In My Mailbox is a weekly meme hosted by Kristi over at The Story Siren. It's awesome. Every week, we all get a chance to tell everyone what new books we've gotten so that we can tell you guys and we can all drool and squee together! Huzzah for squees! Stacking the Shelves is another weekly meme hosted by Tynga at Tynga's Reviews. They're both awesome memes and I love meeting all of you through them!
LOTS of super fun books this week, friends! Alas, I have fallen off the NetGalley wagon. Kind of hard. Hopefully this will be the last big batch for a while. Don't laugh at me! I just can't help it sometimes! I get so excited about ALL THE BOOKS!!
NETGALLEY
Nantucket Blue by Leila Howland (May 7, 2013 from Disney Hyperion). Will you just look at this beachy, swoony cover? I mean, if that isn't enough to make you want to read this book, then the synopsis DEFINITELY will: It's about a young girl with some real friend issues who has to spend her summer working instead of chilling with her BFF. It sounds kind of intense and meaty but still light and beachy. Obviously, there's a boy too.
Rules: Project Paper Doll # 1 by Stacey Kade (April 23, 2013 from Disney Hyperion). A dystopian about a young girl who is half human, half ALIEN who was created in a genetics lab and escapes. The rules in the title are basically her rules for survival, and they include not falling in love, so you know that's going to happen. Plus the people who created her are chasing after her to bring her back. DRAMZ!
Quintana of Charyn: The Lumatere Chronicles #3 by Melina Marchetta (April 23, 2013 from Candlewick Press). I'm getting all geared up to start the Lumatere Chronicles Readalong, hosted by Hannah from So Obsessed With, so I was MUCHO excited to see this on Netgalley. I just know that I'm not going to be able to wait!
Notes From Ghost Town by Kate Ellison (February 12, 2013 from EgmontUSA). I read and enjoyed–although didn't LOVE–Kate Ellison's debut, THE BUTTERFLY CLUES, last year. It was a really thought-provoking, dark story about grief, murder, and mental illness. This one sounds like more of the same, but with a ghosty presence of first love to boot. I'm really intrigued by it.
The Symptoms of My Insanity by Mindy Raf (April 18, 2013 from Dial BFYR). DEBUT ALERT! YAY! Keeping with the mental illness theme from above, but taking a totally different spin, this one brings the funnies. Izzy is a hard-core hypochondriac, but she's also got lots of personal things going on: her friend is acting weird and so is her crush, and her mom is getting sick. The synopsis calls this one "bittersweet," which is kind of one of my favorite things. I KNOW, I'm weird. But excited to read this one!
BOUGHT & GIFTED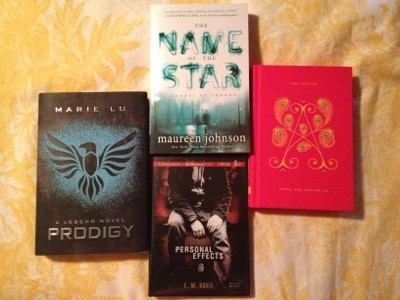 Sorry I don't have a little more time to chat with you all about the books I bought this week, but straight up? PRODIGY is AMAZING, the Penguin drop cap edition of PRIDE AND PREJUDICE is to die for, LOVED THE NAME OF THE STAR and am super excited for THE MADNESS UNDERNEATH, and that Bliss book is a MG about a BAKERY. Also, April totally surprised me with the audiobook for PERSONAL EFFECTS, which sounds excellent!! Such a happy-making surprise! 🙂
Prodigy: Legend #2 by Marie Lu
Pride and Prejudice: The Penguin Drop Cap Edition by Jane Austen
The Name of the Star: Shades of London #1 by Maureen Johnson

Bliss: The Bliss Bakery #1 by Kathryn Littlewood (Kindle)
Personal Effects by E.M. Kokie (Audiobook surprise from April @ Good Books and Good Wine–THANKS FOREVER, LADY!!)