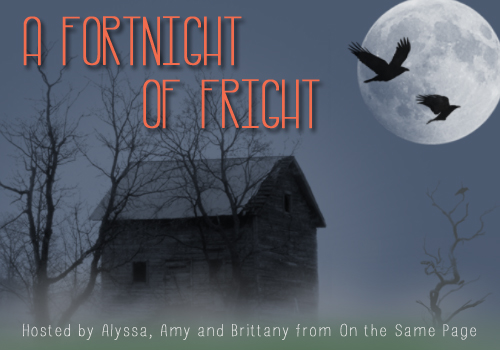 Salem, Massachusetts
It's a very true story that I am OBSESSED with witches, especially the Salem witches. Have been since high school, when I read The Crucible and studied the Salem Witch Trials. I wrote papers on them in college, and am completely fascinated by everything related to them to this day. So to say that I desperately want to visit Salem is an understatement. Thankfully, Nicole from Nicole's Novel Reads has provided the definitive "What to do in Salem, MA" list! Thanks Nicole!
---
Thank you Alyssa, Amy and Brittany for having me for A Fortnight of Fright feature! I am super excited to participate this year. Fall is my favorite season and October is my favorite month and it's a no-brainer for me to spend my October days and nights in Salem, Massachusetts! I am very fortunate to live in the North Shore area for many years and I can participate in all of the spooky fun!
Salem, Massachusetts is one of the oldest towns in the United States. It's well known because of the Salem Witch Trials. However, did you know that most of the Salem Witch Trials took place in Danvers, MA? Salem Village is located in present day Danvers.
Everyone should visit Salem at least once in their life. If you feel brave, venture out to Salem in October. Salem brings in more than 250,000 of people during October every year. Every October there is a celebration called Haunted Happenings where there are a lot of activities for people to engage in whether it be the Grand Parade, the Haunted Biz Bazaar Street Fair or even going on a ghost tour. Salem is rich in history and culture outside of the Salem Witch Trials.
Check out my list of attractions, events, tours and more if you decide to visit Salem!
Attractions and Events
• The Salem Chamber of Commerce hosts a Haunted Happenings Grand Parade that takes place during the first Thursday of October and different organizations participate in the parade. I have been fortunate enough to experience being in the parade for three years. It's always nice to see the joy on everyone's faces during this magical time of year. The parade starts near the wharf and ends at the Salem Common.
• Peabody Essex Museum is definitely a museum you do not want to miss. Rich in culture, this museum is one of the oldest continuously operating museums in the United States. The museum is known for it's maritime pieces as well as its extensive collection of Asian art. Make sure to check out the Yin Yu Tang house which is a house that was transported all the way from China to the United States.
• The House of the Seven Gables is a museum inspired by American literature and the settlement house movement of the 19th century. Who wouldn't want to explore the Turner-Ingersoll Mansion and learn more Nathaniel Hawthorne in the 19th century? Please allow 35 minutes for this tour.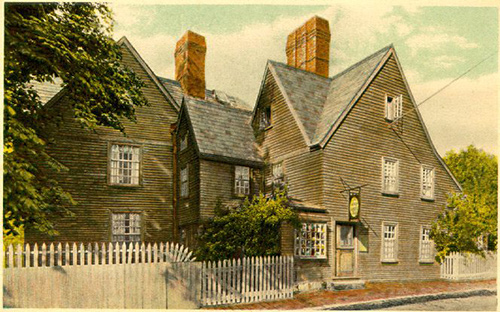 • Salem Maritime Museum is historic site where you can visit a replica of the Friendship of Salem ship and tour the U.S. Custom House.
• Count Orlok's Nightmare Gallery is Salem's cinematic monster museum. If you're a big horror movie fan, this is the museum for you! Visitors will recognize characters from well-known horror films and from cult classics.
• Gallows Hill Museum hosts a plethora of events. The main attraction is The Witchcraft and Ghost Experience. There are two walking tours you can attend in the daytime as well as two nighttime tours.  Definitely check out the website for more attractions.
• Old Burying Point Cemetery is a great place to learn more about the history of Salem. It is the oldest burying ground in Salem and the second oldest cemetery in the United States. It contains the graves of a Mayflower pilgrim and a witchcraft trial judge, John Hathorne. The headstones are full of history and it is a nice cemetery to visit.
• Old Burial Hill Cemetery is not in Salem but it's located in neighboring Marblehead. This is the cemetery that is featured in the film Hocus Pocus. Many victims of the Salem Witch Trials are buried here. For more information about Hocus Pocus film locations in Salem, check out it out here. I have been to a bunch of these locations including Old Burial Hill and it's fantastic! You don't want to miss out on this opportunity!
• Salem in 1630: Pioneer Village is a recreation of 1630 Salem and is located in Forest River Park. Hocus Pocus was partially filmed at this very same location. Around the block or so on Ocean Avenue, you can also visit Max and Dani's house.
• Salem Harvest Fest is The North Shore's Largest Annual Craft Beer, Mead & Wine Festival just near the Salem Commons. Sponsored by Pamplemousse, a portion of ticket sales will be donated to the North Shore Cancer Walk.
• Haunted Biz Bazaar Street Fair occurs the first weekend in October and hosts 90 street-side vendors who sell jewelry, candles, hand crafted items and etc. Street musicians entertain visitors while they browse the stalls. Every weekend in October, some vendors will be selling their wares but at a smaller scale than the Haunted Biz Bazaar. There's also food items such as kettle corn and fried dough being sold every weekend.

Tours  
• Pirate and Privateer Walking Tour hosted by the Gallows Hill Mueum is a new walking tour highlighting some of the maritime history of Salem. This is a great alternative to a witch and ghost tour. Please allow an hour for this tour.
• Spellbound Ghost Tours is a nighttime walking tour and is Salem's original haunted tour. Explore the paranormal experience in the heart of Salem. The tour guides will enlighten their guests with the history of each haunted location.
• Hocus Pocus Tours is a 90-minute walking tour where visitors can discover the truth about Salem's infamous Witch Trial Hysteria and encounter how Nathaniel Hawthorne spent much of his life trying to escape the legacy of a hanging judge. This tour will also enlighten guests with Hocus Pocus locations.
• Haunted Footsteps Ghost Tours is a lantern lit paranormal tour. Tour guides will captivate their guests with true tales of documented paranormal activity, chilling cemeteries and centuries old murder.
• Salem Trolley's Tales & Tombstones Tour is the nighttime tour. Visitors will explore scenes of grisly murders and ghastly executions, hear tales of ghosts, both mischievous and malevolent, of Salem's haunted hotels and restaurants of long forgotten underground passageways, ancient curses and legends of ghost ships and haunted islands. Please allow an hour for this tour.
• Bewitched After Dark Tours provides two types of tours, one a historical and one a scary stories variation. The historical version is held in the day and evening hours and are about two hours long. The Scary Stories walking tour is not for children under 12 and will cover stories of the macabre and tales of the spirits that have plagued Salem for centuries. This tour is based on Salem legends.
Stores to Visit
• Modern Millie Vintage and Consignments is a consignment shop that sells both vintage and modern clothing and accessories. It's a very cute shop to check out if you're visiting Salem.
•  Ye Olde Pepper Candy Companie  is the oldest candy store in America and has a variety of fudge, truffles, taffy and old school candies.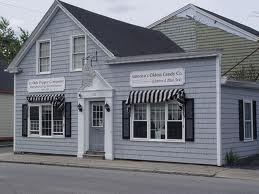 • Remember Salem is a Harry Potter fan's dream come true! Not only can you find Harry Potter books, clothing and memorabilia, but you can also pick up a Butterbeer or a Pumpkin Juice at this charming shop. The back of the shop also houses a hall which looks similar to the Great Hall and also a potions room.
• Wynott's Wands is right next to Remember Salem and is a wonderful alternative to Ollivander's if you are looking for a wand.
• Harrison's Comics and Pop Culture is a local comic shop that sells comics, manga, graphic novels, Funko Pops and a bunch of popular culture items.
•  Pamplemousse is a cute shop that sells gourmet foods, kitchen supplies and craft beers and fine wines.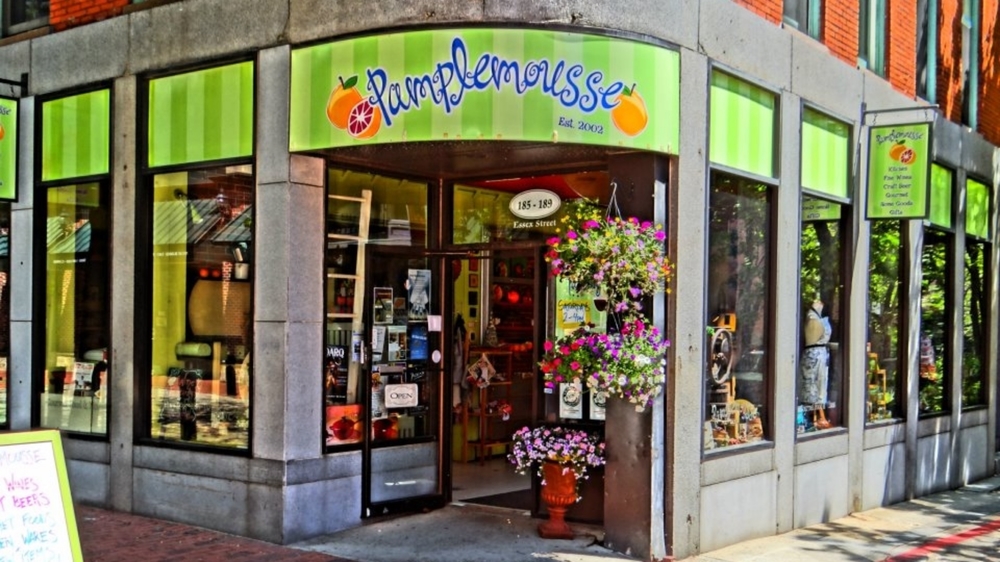 •  Wicked Good Books is a fairly new bookstore that sells both new and used books in Derby Square. They also occasionally host book events in the area.
• The Trolley Depot is your typical gift shop but it houses everything Salem related. Pick up a souvenir or two.
• Witch Tee's is the place to go for a Salem related T-shirt for cheap! There are dozens of designs and there is definitely something for everyone.
Places to Eat and Drink
• Howling Wolf Taqueria is the place to visit if you are craving some Mexican food. With a seasonal bar, you can enjoy a margarita or a beer with your burrito, enchilada or tacos. Definitely check out their special night deals such as Burrito and Beer Monday, Taco Tuesday and Wild Wing Wednesday.
• Kuscho Bistro has been one of my favorite places to pick up a sandwich. They also have some of the best frozen yogurt in town. A frozen yogurt base (chocolate or vanilla) is used and you can choose the toppings you want to be mixed into the base. What I love is the low cost and big frozen yogurt portions.
• Gulu-Gulu Café is a chill place to relax with a pint of beer or a glass of wine while listening to local musicians. Enjoy some tasty sandwiches, play a board game or two and catch up with some friends. There is an extensive beverage menu from craft beers to wine to tea to coffee.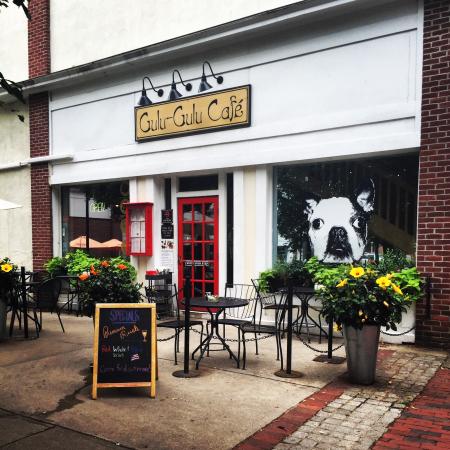 • Flying Saucer Pizza Company is right next to Gulu-Gulu and houses some of the most innovative pizzas. The eclectic pizza menu highlights a variety of fresh and local ingredients. There beer selection is decent as well. It's definitely a place you want to visit!
• Red's Sandwich Shop is one of my favorite places to visit for breakfast. The wait time can be long but the food is worth the wait. There is also a newer location in Peabody called Red's Kitchen + Tavern.
• Bella Verona is a small hidden gem near the Hawthorne Hotel. If you are looking for Italian food outside of the North End, definitely check out this fabulous restaurant. I would highly recommend making a reservation ahead of time.
• The Lobster Shanty has some delicious food such as the Connecticut style lobster roll and the lobster rangoons. Located in the Artist Row section of Salem, this little shack of a place will satisfy your seafood cravings.

• Opus is a quirky and progressive restaurant where East meets the West with brunch and dinner options. Guests can nosh on small plates, salivate over creative sushi rolls and enjoy delicious main entrées. Also, check out their one of a kind cocktails.
• 62 Restaurant and Wine Bar is more of an upscale restaurant located on the Pickering Wharf and is only open for dinner. If you are looking for a modern take on Italian classics, this restaurant is worth visiting.
• Tavern on the Green is housed inside of the Hawthorne Hotel and has a good selection of food and drinks. Open for all three meals of the day, diners can satisfy their palate with a simple burger or go for more extravagant with some of their seafood selections.
• Turner's Seafood opened its doors two years ago at the historic Lyceum Hall and has a stamp of approval from Phantom Gourmet. It has some of the best seafood in the North Shore for a reasonable price.
• Jaho Coffee & Tea is one of my favorite local coffee shops in Salem and is located near Pickering Wharf. Not only do they serve coffee and tea, but customers can try one of the many flavors of gelato or they can try a sandwich. Jaho's also serves hot chocolate and bubble tea and the baristas make some of the best latte art.
Where to Stay
• Hawthorne Hotel is located next to the Salem Commons and it is also haunted. Named after Nathaniel Hawthorne, this hotel books up fast. Make sure to book your room a year in advance if you plan to stay here for next October.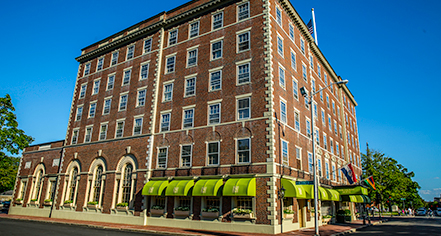 • The Salem Inn is located in the heart of Salem and is comprised of three historical homes. The rooms are decorated featuring antiques and homey touches. Just like with the Hawthorne Hotel, reserve your room ahead of time.
Have you visited Salem before? If so, what are your favorite places to visit? If not, what do you plan to visit?